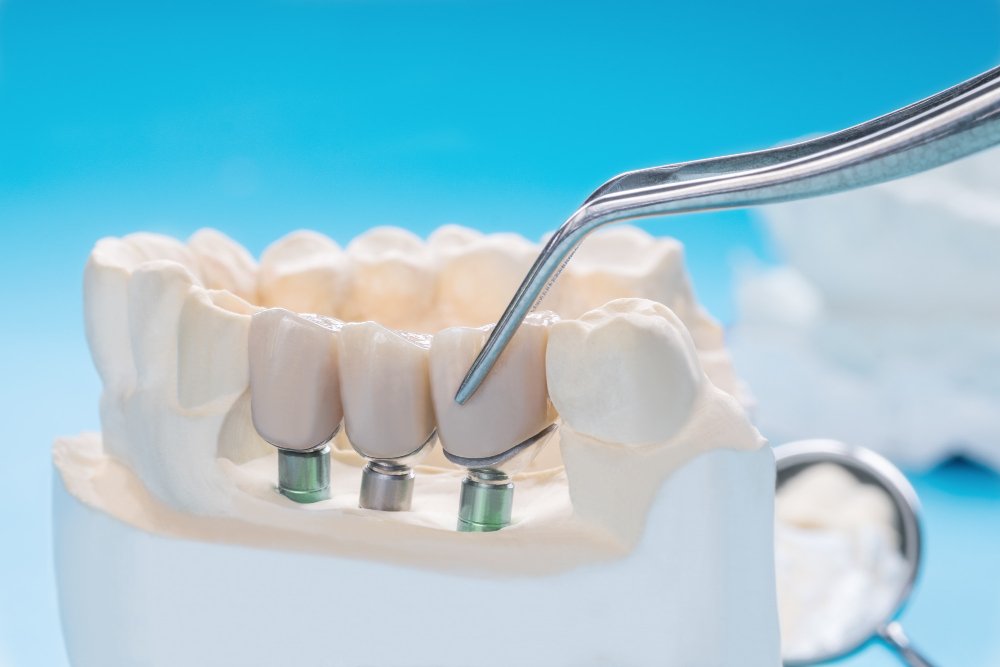 Your teeth perform critical functions every day. Not only do they allow you to bite and chew your food, but they are also an important factor in proper digestion and nutrition. Additionally, your teeth allow you to speak properly by controlling airflow, keep your jawbone strong by stimulating the bone, and provide you with a beautiful smile.
However, missing teeth impacts all of these functions. Replacing missing teeth is essential for restoring function and health to your body. At Edelweiss Dental Implant Center, we provide dental implants as an option for restoring the function, health, and beauty of your mouth.
What are Dental Implants?
Dental implants are a relatively recent development in tooth replacement technology.
They consist of three major components – the implant, the abutment, and the crown.
The implant is a small titanium rod that requires a surgical procedure to place. It relies on osseointegration, or the fusion of your jawbone to the implant, to create a stable support for your replacement teeth.
The abutment is a connector that is placed at the top of the implant.
Finally, the restoration is attached to the implant. In this case, the final restoration will be a set of new teeth in the form of an implant-supported denture.
All of these components work together to provide you with a beautiful, natural, fully-functional smile, allowing you to get your life, and your confidence, back.
Types of Dental Implants
Dental implants can be used to replace any number of missing teeth. To meet your specific needs, there are several different types:
A single tooth implant is meant to replace a single missing tooth. One implant supports a single crown. It is possible to have several single-tooth implants in your mouth.
A multiple tooth implant, also called an implant supported bridge, is designed to replace sections of missing teeth. One or more dental implants are used to support your replacement teeth.
Implant-Supported Dentures
An implant-supported denture replaces an entire arch of missing teeth. Typically, 6 to 8 dental implants are placed per arch.
The All-on-4© Treatment Concept is meant to provide dental implants for individuals who have suffered too much bone loss for a regular implant supported a denture. Rather than 6 to 8 implants, your arch of replacement teeth is supported by four strategically placed implants.
How are Implants Placed?
Implants require a surgical procedure. After a local anesthetic (and sedation, if necessary), incisions are made in the gums. We then drill holes into your jawbone, following a custom treatment plan designed just for you. We then insert the titanium rods and close the tissue around them, leaving a small section of the rod exposed.
Healing from surgery can take anywhere from a few weeks to several months. While you heal, you will have temporary teeth, which will restore some of the functions of your mouth. As you heal, we will monitor your healing progress, making sure that the bone is indeed fusing with the rod. Once you have fully healed, we then place the abutments and take impressions. These impressions are used to design and create your custom, permanent replacement teeth. When they are ready, we screw them into place.
Benefits of Dental Implants
You can eat all of your favorite foods again.
With the ability to properly chew your food, your digestion (and overall nutrition) is also improved.
Implants are more comfortable than other replacement options, with your teeth supported by the implants themselves rather than your gums.
Implants help to prevent the bone loss that typically follows tooth loss.
You regain your beautiful smile, as well as your confidence.
Implants are a permanent solution to tooth loss.
Your speech returns to normal.